Jon Kauffmann Cancer Benefit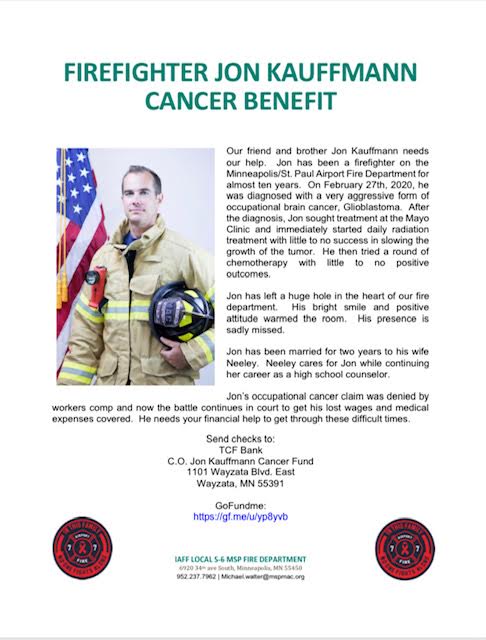 IAFF Local S-6 is in the process of distributing the Jon Kauffmann Cancer Benefit flyer to the IAFF, MPFF and other locals. Feel free to share this flyer with anyone you would like
Our Brother and Friend Jon Kauffmann needs our help.
Jon has been a Firefighter with the Minneapolis/Saint Paul Int'l Airport Fire Department for almost ten years. On February 27th, 2020, he was diagnosed with a very aggressive form of occupational brain cancer, Glioblastoma. After the diagnosis, Jon sought treatment at the Mayo Clinic and immediately started daily radiation treatment with little to no success in slowing the growth of the tumor. He then tried a round of chemotherapy with little to no positive outcomes.
Jon has left a huge hole in the heart of our fire department. His bright smile and positive attitude warmed the room. His presence is sadly missed.
Jon has been married for two years to his wife Neeley who cares for Jon while continuing her career as a high school counselor.
Jon's occupational cancer claim was denied by worker's comp and now the battle continues in court to get his lost wages and medical expenses covered. He needs our financial help to get through these difficult times.
---
Please direct donations to either of the following:
---
TCF Bank
C.O. Jon Kauffmann Cancer Fund
1101 Wayzata Boulevard
East Wayzata, MN 55391
---
---
Download:

Firefighter jon kauffmann cancer benefit.pdf