| | | |
| --- | --- | --- |
| Welcome | | You are not currently logged in. |
| | | |
| --- | --- | --- |
| | | |
| | | |
| | | |
Members, Retirees, Friends...
Although recent COVID-19 social distancing restrictions have delayed any celebratory gatherings to mark the occasion, please join Local S-6 in congratulating Chris Reese on his retirement.
Chris began his career with the Airport Fire Department on Wednesday 19th June 1991 with Friday 20th November 2020 being his official date of retirement marking just over 29 years, 5 months of service.
God Speed and enjoy your retirement, Sir!
*Any future party plans are currently pending.
Local S-6 Membership,
Please note that there is a union meeting this Saturday 14th November 2020 - A-Shift will be going off duty and C-Shift will be coming on duty.
However, because of the new COVID-19 restrictions set forth by Governor Walz only allowing gatherings of 10 or fewer people, the Executive Board has decided to hold the meeting in several different locations within the Fire Stations utilizing teleconferencing. Details are as follows:
C-Shift will be coming on duty that day so they will remain in their respective Fire Station dayrooms;

All off duty members will filter in throughout the training room at Fire Station One, the computer room, library, etc. (not to exceed 10 per room while adhering to social distancing).

Masks and social distancing will be in full effect - regardless of on or off duty status.

Members will NOT be allowed to Zoom in from home. You MUST be in attendance at either Fire Station to attend the union meeting.

And if you are sick, STAY HOME - NO EXCEPTIONS.
We will continue to operate our union meetings this way until the guidelines change for better or for worse. And as always, Local S-6 appreciates your understanding and flexibility during these challenging times. If you have any questions please contact an Executive Board member.
Next (tentative) union meeting... Saturday 12th December 2020. C-Shift will be going off duty and A-Shift will be coming on duty.
---
UPDATE
---
Out of concern for the health and safety of all participants due to COVID-19, organizers have chosen to move the Jog for Jon event to a virtual format...
---
"We would still love to see everyone get out for a walk/jog/run on Saturday morning in support of Jon and Neeley... just in your own neck of the woods! For everyone who participates virtually, PLEASE snap a photo or video of yourself (or your group) walking for Jon and email it to jogforjon2020@gmail.com. Jon and Neeley are incredibly bummed they cannot be there in person to thank EACH and EVERY person who has texted, called, donated, etc., so we thought it would awesome to create a video of all the participants for Jon and Neeley to see! Thank you so much for all the support, for spreading the word and for your continued prayers for strength for Jon and Neeley!"
---
EVENT DETAILS:
---
Date/Time: Saturday 28th November @ 10:00
Location: Virtual
Contact Info: jogforjon2020@gmail.com
---
From Jon's GoFundMe organizer, Jenny 'Hansen' Goettsch:
---
Please join us for a "Jog for Jon" walk/run to benefit our dear friend Jon and his amazing wife Neeley!

This past February, Jon was diagnosed with a very aggressive form of terminal brain cancer called Glioblastoma. Despite efforts to slow the growth of the tumor through radiation and chemotherapy, Jon's cancer continues to worsen and medical costs continue to grow. We would love to see an incredible turnout in support of Jon and Neeley, whether you join us in person or from your own home!

If you choose to join in from home, please take a snap shot of yourself walking/running in honor of Jon and send to jogforjon2020@gmail.com! We would love to show Jon how many people came out to support him!

Please use the gofundme page to submit a $15 donation for participating (additional donations welcome as all proceeds will go to Jon and Neeley)...

Thank you in advance and PLEASE spread the word...the more the better!!!
---
---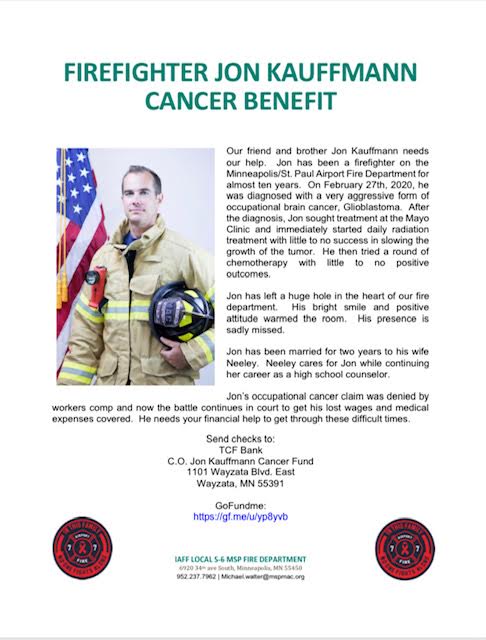 Our Brother and Friend Jon Kauffmann needs our help.
Jon has been a Firefighter with the Minneapolis/Saint Paul Int'l Airport Fire Department for almost ten years. On February 27th, 2020, he was diagnosed with a very aggressive form of occupational brain cancer, Glioblastoma. After the diagnosis, Jon sought treatment at the Mayo Clinic and immediately started daily radiation treatment with little to no success in slowing the growth of the tumor. He then tried a round of chemotherapy with little to no positive outcomes.
Jon has left a huge hole in the heart of our fire department. His bright smile and positive attitude warmed the room. His presence is sadly missed.
Jon has been married for two years to his wife Neeley who cares for Jon while continuing her career as a high school counselor.
Jon's occupational cancer claim was denied by worker's comp and now the battle continues in court to get his lost wages and medical expenses covered. He needs our financial help to get through these difficult times.
---
Please direct donations to either of the following:
---
TCF Bank
C.O. Jon Kauffmann Cancer Fund
1101 Wayzata Boulevard
East Wayzata, MN 55391
---
---
Download:

Firefighter jon kauffmann cancer benefit.pdf
2020 has been a challenging year delivering too many hardships, injustices & heartaches... making the victories & celebrations that much more special and worthy of acknowledging. And it's usually in the quietest of moments that significance has occurred... Saturday 24th October 2020 - B Shift, Station One, Engine 31 - sees its first all-female promoted crew... Captain Natalie Forst, Driver Adrienne Selbitschka and Firefighter Jessica Meuwissen.
Ability to do the job is top priority... and gender, orientation, race, ethnicity, religion, creed, et al of the person in the position shouldn't matter IF all have had equal access. It's taken nearly 61 years, but Airport Fire has rounded the bend in creating more opportunities for all. God Speed to the crews of IAFF Local S6/Airport Fire. And ladies, you got this!